World ( Mobile) Tel:
07950977892
Email: victory @homecall. co.uk
THIS IS PAGE 1
P 2 TEXT OF THIS PAGE'S TICKER TAPE
P 3 OUR BOOK FRONTS
P 4 POLICIES
P 5 FOLK LOYALISTS' MEMORIAL
P 6 OUR VOICE
P 7 Besides Links to other web sites THIS AND THE FOLLOWING PAGES MAKE A PRO AND CON FOLK FORUM FOR YOURS AND OUR COMMENTS OF WHATEVER E.G. ECONOMICS, POLITICS, HOMES, MILITARY AND SOCIAL, SERVICES CULTURE, WORK, EDUCATION, PENSIONS,PEACE OR WAR WHICH YOU CAN EXPRESS THRU LETTERS, POETRY, ARTICLES AND PICTURES IF THEY SUIT US AND WE CAN DO SO.
P 8 OV Ed. FPW latest verse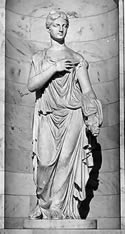 TO LIVE IN PEACE
OR DIE OF E.G. AIDS OR IN WARS AND BY OVER POPULATION RESULTING IN OUR FOOD RESOURCES OBLITERATION AND THEREBY HUMANITY'S EXTERMINATION ARE OUR PRIME QUESTIONS THAT WE HAVE LITTLE TIME TO RESOLVE MAKING ALL PERSONALITY ETC. DIVISIVE ACTS IN THIS WAR FOR THE SURVIVAL OF HUMANITY ACTS OF TREACHERY THAT SHOULD BE ACCORDINGLY PUNISHABLE
A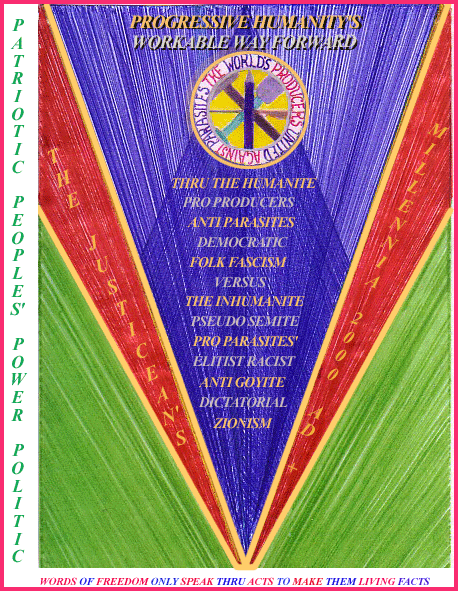 HELLO READER We are only responsible for our articles etc. others herein are for their articles responsible or like Jane Birdwood and Oswald Mosley etc. are in honour of them for being Folk Patriots until their deaths. Whatever pedantics think about the site's grammar it is hoped you clearly grasp what we say about which or whatever you are free to use Your Voice in "Our Web Voice" to say anything , if it is within our Folk Family's grown norms of social decency and are not insultive of anyone i.e. intrusive on their private life about things that are not against the law or their social stated morals, also, you may send us your ideas, if possible, preferably as not hand written letters or articles and a max of c.1200 words ( By E-mail if able and preferably in Arial or Times New Roman text ) about anything relative to this web site's Economics; Business; Country; Culture; Health; Home; Politics; Travel; Sport etc. sections As to the submitted article's etc. placing the entrants must trust the Editors' decisions about layout and the subject's instancy. ( For which non payment purpose we have allotted c.10 MB of our Web Space to which letters will go in the order of their being received by us and their contents actuality. Because, like you who must work to live, we cannot afford to be a charity, as our costs and staff must be paid for, so if you desire instant, at present within a month but maybe later weekly etc., and guaranteed, if we think acceptable, publishing of an article or advert on our Web Site then you must pay a not yet decided rate and therefore an agreed sum) The Editors will only amend your writings etc. before publishing them in any way with your signed acceptance of our offered revision of them to you or our signed acceptance of your revised writing after which their publication of them by us The Patriotic Peoples Power Party and its granted affiliates will as with all publishings by us have the copyright of them unless the writers at the time of sending them request otherwise.

The ethnic media e.g. Asian Times; The Jewish and Muslim Chronicles; (Caribbean) Gleaner; The Voice (Headlined as being "Britain's Best Black Paper") rightly support their kin, faiths etc. but under the Parasites' and Folk Traitors' vile propaganda media made hostile social climate ( That has cowed Our Folk to accept alien control of our economy and so military, political, cultural dictatorship of our country ) these alien invaders' papers and web sites are in our taxes paid for libraries and in waiting rooms etc. plus with their discs etc. are sold in shops while true Folk Loyal British ones are kept out of them and their staffs accused of racism etc. for supporting, as the above mentioned newspapers, their folk against being gagged and banned in Free Speech's name, with the intent to choke us to death against which The PPPP etc. shall fight to the death. Naturally, the Wily Alien Racists call us racists to exalt their race and stop us from seeing nature has bred many races with richly diverse ethnics, cultures, that give loyal Africans, Asians, Caucasians, Orientals a natural pride in their forebears and so the desire to defend their race, culture, land etc. as nature's raw law says: Any specie unfit to live does into death flit. So as all healthy races we defend ours but do not brazenly assume we are a superior God Chosen Race picked to rule the world from their brutally Occupied Palestine like the xenophobic, religious ritualised rabid racist, megalomaniac, Pseudo-Semite anti-goyite paranoic Zionist bigot's do, while being repulsively offensive to their leeched onto host Folk Families as parasitical Pseudo Jew Khazar Capitalist and Communist Comrade Commissar Elitist Racist Imperialists

A FOLK WHO AGAINST THEIR OWN INFIGHT OR COWARDLY TAKE FLIGHT THAN FIGHT AGAINST AN ALIEN BLIGHT ARE DUE TO ENTER DEATH'S EVER NIGHT DESERVEDLY EPITAPHED SHITE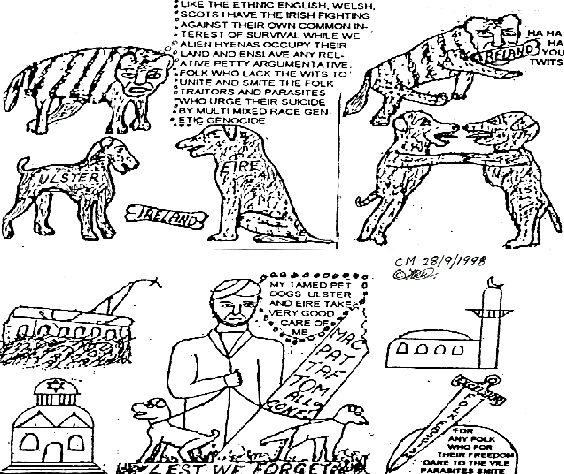 ARE WE SUCH MENTAL MITES AS TO LET ALIEN PARASITES AND FOLK TRAITOR SHITE KEEP US INFIGHTING SO THEY CAN SEIZE OUR HOMELAND AND ENSLAVE OUR FOLK TO SO MAKE US IDIOTICALLY BURY OUR FOLK INTO DEATHS FOREVER NIGHT
LET US STICK LIFE'S VILEST SCUM - AS ARE FLUNKEY FOLK TRAITORS - DOWN OUR LEECHY PARASITES' THROATS BY GIVING ONLY PATRIOTIC PEOPLE'S POWER PARTIES e.g. NF; BNP; PPPP, BPP OUR VOTES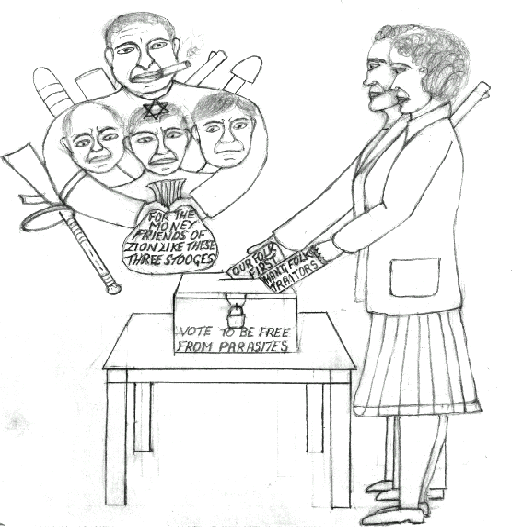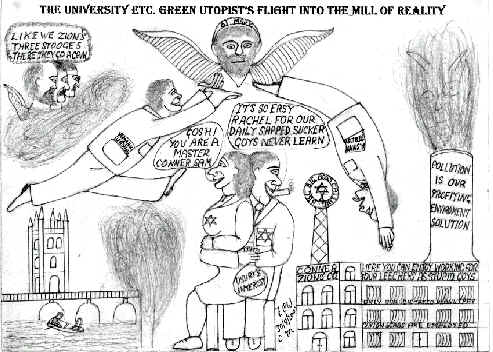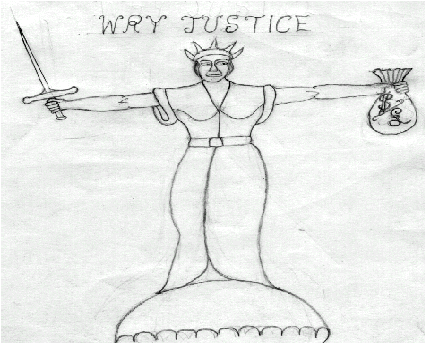 Hello Reader, Due to the now dire need to end the threatening extinction of we Euro/ Saxon/Celt Brits by we as a Folk Family being so stupid as to be conned into betraying our forebears and war dead by letting a few Folk Traitors - life's vilest scum - to Judasly greet into Our Land the Zionist Pseudo Jew Khazar Capitalist and Communist Comrade Commissars to enslave and exterminate us by having us bled until dead in work and wars for them plus their mass importation oft in Socialisms name of Capitalist cheap labour to enforce Our Folk's suicide by multi mixed race genetic genocide while turning Our Country as done to other Folks' countries into a colony in their World Wide Webbed Imperium of Usury being increasingly ruled from their brutally Occupied Palestine that they claim as their made God given right to seize under a huge wartime begun propaganda cloak of having suffered an holocaust that they forbid anyone to query to stop us from proving them liars and hide their own heinous holocaustic crimes of mass murdering many millions of Christians and Moslems etc. who have no Holocaust Museum etc. Memorabilia or had their bloody murderers brought to justice who are now lauded by their wily thuggish tribe who financed and dictated as totally ruthless commissars etc. their phoney Communist revolutions and in the World Wars between the then honest Folk Loyal National Capitalists and the shifty Pseudo Jew Khazar Zionist Cosmopolite Capitalists whose other vile crimes consist of financially and politically dictating the hideous atom bombing etc. Dresdenian atrocities which they piously justify thru their mass media driven holocaust propaganda they use to fool the world's peoples to emotively back the Zionist's usury war loans etc. debt fettered surrogate states seated in the Security Council of Zion's undemocratically structured 'United' Nations to criminally ratify plus give open and secret armed support of the Zionist invasion of Palestine which is causing the conflict in the Middle East and in the world's nations whose folk are trying to free themselves from leechy Zion's economic and so political etc. Shylockian shackles alas many blindly falling into the trap of Zion's usury loan dug Communism or other utopic graves We on the contrary do not blame the Zionists for fulfilling their inbred nature of being parasites by outwitting us to live in luxury on our work we blame ourselves as a Folk Family for being such simpletons as to be so easily fooled and cowed by a few leechers instead of always keeping our social body economically etc. clean from parasites and Folk Traitors by practicing Folk Fascism ( The only word with a social meaning the leechers fear and so is their bled until dead victims best policy ) being each united Folk Family's Cooperative anti usurers control of their economy to build and keep the truly happy political, cultural, religious freedom defended by their military to best thrive in a Justiceans' Global Confederated Union of Folk Family Democracies.

*****VIVA LIBERTY******